Clenching and grinding of the teeth and jaw, medically referred to as bruxism, can occur without one even being aware of it. Bruxism commonly occurs during sleep and can cause painful and destructive symptoms to both the teeth and muscles of the jaw. Because it often occurs during a person's sleep, those who suffer from bruxism can regularly go undiagnosed for a period of time. Being aware of the signs and symptoms of bruxism can not only alleviate pain, but also prevent serious damage to the teeth jaw structure. In this article we will go over the best mouth guard for clenching teeth so you can avoid the long term side effects and expensive dental bills.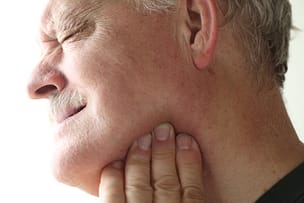 Physical symptoms of bruxism can appear as fractured, chipped or broken teeth. The teeth's natural enamel can be worn down by the constant clenching and grinding, causing sensitive layers of the teeth to be exposed. Teeth may also appear to be flattened, or appear as "nubs" due to the constant wearing down of the tooth structure. Due to damage to the tooth structure, serious and expensive dental work may be required to treat infections of the teeth or to repair tooth structure.
The Best Mouth Guards for Clenching
One of the most common first lines of defense for your teeth after learning you suffer from Bruxism is to get yourself a mouth guard. This will not stop you from clenching but it will help to mitigate the damage that is done to your teeth and hopefully limit the dental bills that can pile up.
There are a few different types of bite guards for clenching on the market and they all have their pros and cons. I have done research for the most popular and effective mouth guards for clenching, here are my top 5. The top two are professional-level teeth clenching guards similar to what you would get from a dentist, only about a third of the price. These will last you a few years and need to be cleaned and cared for property. The other options are more disposable and will last anywhere from a few days to a few weeks. These are great options for travel, convenience & sanitation.
If you do not yet have a mouth guard and know that you are grinding or clenching in your sleep do yourself a favor and pick up a cheaper disposable option now and stop damaging your teeth. Then we can get into WHY you are clenching and solve the root cause.
1. Pro Teeth Custom Dental Guard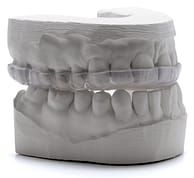 If you are looking for a Professional style TMJ night guard identical to the ones prescribed by the dentist, only a quarter of the cost, look no further than the Pro Teeth Guard.
You can save hundreds of dollars by going straight to the source, ProTeethGuard is a professional dental laboratory used by dentists to create mouthguards for TMJ
Uses a softer silicone material on the inside and hard plastic/epoxy on the outside, which makes for a more comfortable fit.
This is a great mouth guard for teeth grinding if you have had significant dental expenses, and cheap insurance for more dental work in the future!
2. J&S Dental Lab Custom Night Guard
Everything about this TMJ guard is customizable, including the thickness and the material used. Whether you want a soft or hard acrylic guard, or a thinner or thicker guard, you can customize it just for you!
They offer many different hardness and thickness parameters, you can choose when you are filling out the informational packet that comes with your molding kit.
The longevity of your TMJ bite guard depends on grinding severity, grinding/clenching behavior and how well it is taken care of.
3. Sleep Right Dura-Comfort
The most durable and bulky of the SleepRight Disposable Dental Guards, this is one of the best over the counter mouth guard for TMJ. It offers protection from the most severe night time grinding and clenching.
While offering the most protection for your teeth, this also means that the pads might be considered "too hard and bulky" for some.
The bite pads have four positions, making it easy to customize the fit for all sizes. They adjust forward for a smaller fit and backward for a larger fit, as well as swivel to match the angle of all bites.
4. Plackers Grind No More Disposable Dental Guard
Coined as the first disposable night guard, they are designed in a 10 or 14 pack to be thrown away after 3 days.
They are definitely a comfortable, cost effective short term solution that provide protection for your teeth in a convenient and hygienic way.
Although recommended for 3 days of use reviewers say they can get up to a week comfortably using a single guard using propers cleaning techniques and a plastic case. That means this box could last you longer than as 3 months, a bargain if you are not ready to commit to a more expensive molded or custom dental appliance. (Usually ranging from $150-600)
5. Den-Tek Ready Fit Disposable Mouth Guard
The DenTek Ready-Fit Disposable Mouth Guard for grinding teeth is a brand new option that comes in a pack of 16 for $19.99, rivaling Plackers for the most hygienic, comfortable and convenient disposable mouth guard. Use when traveling or in a pinch.
They are very slim and comfortable, you might not even realize you are wearing it.
Individually packaged & ready to wear
Daily hygiene & comfort
Protection for nighttime teeth grinding (bruxism)
No boiling, molding, or cutting required
Slim design; protects while you sleep
Fits on lower or upper teeth
Long Term Treatment
Treatment can vary from treating the underlying cause to alleviating pain or damage cause by the clenching and grinding. Help can be obtained medical practitioners such as dentists, TMJ specialists, chiropractors or therapists.
Dentists can help diagnose bruxism and construct a night-guard to be worn during sleep to protect the teeth from damage.

TMJ specialists and chiropractors can help provide treatment to damaged joints and muscles of the jaw, including jaw exercises, physical therapy, massage therapy or even surgery.

Seeing a therapist can provide treatment of underlying stress or anxiety, including the prescription of anxiety medications or stress reduction techniques.

Medical practitioners can also help encourage habit reduction to keep the jaws relaxed during the daytime. This can include reducing gum chewing, caffeine intake and alcohol consumption, as these substances can encourage clenching and grinding.

Practitioners may also encourage lifestyle changes such as increased water intake or getting more sleep during the night to help reduce symptoms of stress.

Home remedies can help alleviate the painful symptoms associated with bruxism. Taking an over the counter muscle relaxant or using a warm compress to the jaw area can help relax the muscles. The muscles can then be gently relaxed to reduce tension and provide relief from pain.

Due to bruxism commonly occurring during sleep without one's knowledge, being aware of the signs and symptoms is important and beneficial. Seeking medical attention for treatment of night-time grinding can help prevent extended and painful damage to the teeth, joints and muscles of the jaw.
I hope this article gives you a little more information on Bruxism and Nightime Clenching and guides you toward the best mouth guard for clenching teeth you can find for your situation.