Pros
Comes with a great case for disinfecting and storing
Can mold for the top or bottom teeth
Comfortable, lightweight and easy to use
Cons
Can be a bit fiddly to get the initial mould done
The guard does feel slightly large and bulky
Very soft, may grind through quickly
The Dental Duty Mouth Guard is a lightweight, comfortable choice for protecting your teeth against light grinding or clenching. They come in a 4 pack so you can throw them away when they get mashed up and mold another one! Also good if you mess up during the molding process, with 4 you can try again to get the perfect fit.
The mouldable fit is designed to prevent bruxism and clenching. The Dental Duty mouth guard relaxes your jaw muscles, prevents teeth grinding, clenching and can alleviate problems that may cause dental injuries Therefore preventing bruxism and its related symptoms such as facial muscle pain, spasms, neck and joint pain, insomnia, shoulder pain and headache. The nightguard is also designed to prevent Temporomandibular Joint Disorder (TMJ).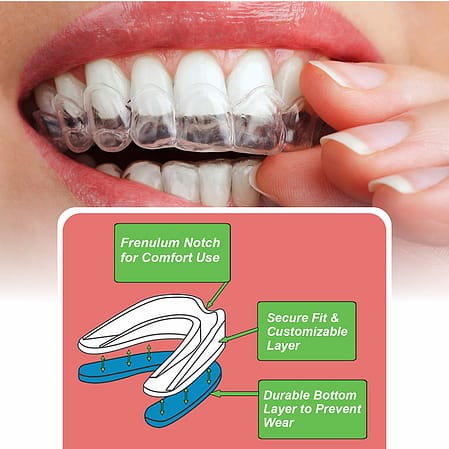 This guard provides a soft cushion for clenchers that can relax jaw muscles, prevents teeth grinding and alleviate problems that may cause dental injuries.They are so soft that you could mold them around your braces, which is something that you cannot do with most mouth guards.
Dental Duty Mouth Guard Molding Instructions
Very easy to mold:
1. Microwave water for 1 minute
2. Place mouth guard in the hot water for 10-15 seconds
3. Place in mouth and suck the air out of it so it molds to your teeth
4. Drop in cold water
5. You can repeat if you messed up.
Each Dental Duty mouth guard can be trimmed to fit any mouth size. Can also be adapted to fit a wide variety of teeth alignments, tooth sizes & mouth shapes for your optimal comfort. They also come with a 30 day money back guarantee so you do not need to be worried about messing up the molding process.
In short, this soft, comfortable and pliable 4 pack of mouth guards is perfect for clenchers and those who grind their teeth lightly. Those who grind with any vigor will want to look for a harder more
durable guard
.
Find the Dental Duty Professional Mouth Guards on Amazon!

[scrapeazon asin="B01975YB4Y" width="800″ height="900″ border="true" country="us"]