The DenTek Comfort fit dental guard is a no boil, ready-to-use dental guard that should last 6 months or longer. The package comes with 2 mouth guards that last about 6 months each and a case.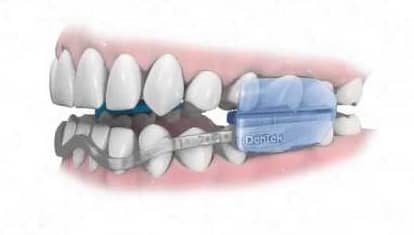 Designed as a comfortable alternative to other more bulky mouth guards, Reviewers love the way this guard can adjust to fit just right and say it feels thin and comfortable. The BPA Free guard is designed for use on your lower teeth and puts a space in between the molars to prevent any grinding and clenching.
A few reviewers said that the DenTek Comfort fit dental guard is too flimsy and can fall out of your mouth during sleep. They also complain that if you are a "real grinder" these will not last the 6 months the manufacture guarantees. Another point to consider is that the edges have been said to be a bit sharp, and may cut or rub the gums a bit raw at first.
If you have had bad experiences with "more bulky" mouth guards and are searching for a thin and comfortable solution, the DenTek Comfort fit dental guard may be your best bet.
It's less bulky, than the

"custom fit" guards

, takes very little time to get used to, doesn't need boiling water to fit the guard to your mouth. The price is right, too. I highly recommend this product to others who are having trouble getting the "custom fit" guards to fit comfortably in their mouths.

Karen
DenTek Comfort Fit Dental Guard Instructions
The DenTek Comfort fit dental guard is designed to adjust the fit by pushing/pulling the blue edges so it feels comfortable in your mouth.
When first trying it on use a mirror to check that the molar pads cover at least half of your last molar. If your dental guard doesn't cover at least half of your last molar, make an adjustment.
Very easy to clean, just run it under water & slide the pads back & forth on the adjustable piece to rinse it out, then about twice a week, drop it in a glass of mouthwash or use a cleaning tablet to disinfect it.
Quite affordable, mouth guards for a year for under $30
If you are looking for a lightweight, adjustable and comfortable mouth guard that comes with a case, try the DenTek Comfort fit dental guard.
FAQ:
Are the bits that go between the teeth soft or are they hard acrylic?  They are soft, but yet they are firm.
Is it BPA free?  Yes, it states it is BPA free in its description.
Does this work for children?  Suitable for children 8 and older.
[scrapeazon asin="B002WTCK4Q" width="800″ height="950″ border="true" country="us"]