Pros
Easiest way to clean your mouth guard
Reasonable price for a cleaning solution
Many cleaning uses other than to clean dental appliances
Cons
Some reviewers have noted the smell and taste of mouth guard after cleaning
Recently changed packaging to a thinner paper that you need to cut to get a tablet out
Efferdent cleanser tablets help to keep full plate dentures, partials, retainers and other dental appliances fresh and clean, removing stains and odor.
Comes in a 120 or 240 count boxes which is a total supply of 4 or 7 months if you use 1 tablet daily.
Designed to fight plaque and odor, Removes stains and keeps your dental appliance fresh and clean
Works great for my night guard. I put my night guard into a glass in the morning and add an Efferdent tablet. I leave it like that until the evening when I rinse it all out and use the guard. It works great! The glass ends up with some residue from the tablets over time, but that can be easily cleaned off with a rag and a quick dish wash.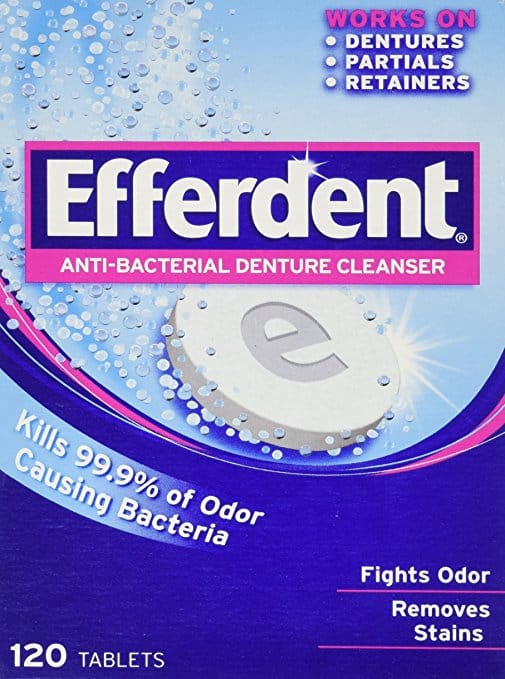 These dissolvable tablets are easy to use and convenient to store. Tablets have been individually wrapped to suit your active lifestyle.
"There isn't much to say other than I use this to clean my night guard. I put it in my little iSonic F3900 cleaner and I have never had an issue with my mouth guards carrying bacteria. I just throw one of these little tabs in the cleaner with the guard when I brush my teeth and by the time I am done brushing my teeth my guard is clean. I did get this very quickly and i think the price is reasonable." -JL
Just For You: Those who use full or partial dentures, retainers and other dental appliances
A Closer Look: Efferdent Anti-Bacterial Denture Cleanser kills millions of bacteria that cause denture odor and dissolves stains, while removing plaque build-up and food particles that cause gum irritation.
Get Started: Place your dental appliance in a coffee cup or denture bath with enough water to completely cover the denture. Add one tablet and let the denture soak for at least 15 minutes every day. Remove and rinse denture thoroughly.
Be sure to rinse thoroughly after cleaning! This works great and removes all bad tastes and odors I used to have when I used water and mouthwash. Definitely worth the money. The packaging is sometimes tricky as an over-aggressive tear could tear into another tablet. The tablet, exposed to humid air, like in a bathroom, will start dissolving. So I have to tear carefully. The perforations aren't the best in the packaging, so I make extra work to tear carefully.
[scrapeazon asin="B000GGKQ16″ width="800″ height="800″ border="true" country="us"]