Pros
Ultrasonic technology silently produces cool mist over 2 feet
Easy to use with touch timer buttons, control for mist levels, and nightlight
Blends in well in most rooms, office spaces, and desks
Cons
Missing the ability to detect the water levels without having to open the tank
Requires regular cleaning to avoid mold
A lot of adults struggle with getting enough amount of sleep every night. Many spend most of the night tossing and turning, not knowing why they cannot get comfortable enough to sleep.
The same thing happens to babies who become fussy at night. The culprit might actually be something we can't see and something we often forget to consider – the air around us.
We know that humid air can be uncomfortable because it makes the room dense, hot, and sticky. A lesser known air type that is often the problem is actually dry air.
Dry air makes it difficult to breathe normally. It dries out the respiratory system and it leads to a number of breathing problems.
Low humidity in the air can be the invisible reason why you spend the night wondering why you and possibly your child cannot sleep. Luckily enough, there's a quick solution to that problem that is readily available.
Humidifiers such as the [easyazon_link identifier="B07C96NK8P" locale="US" tag="bestnightsleepever-20″]LEVOIT Cool Mist Humidifier[/easyazon_link] can make a world of difference when it comes to the quality of the air you breathe.
If you are interested in adding a unit to your home, this review will cover the good and the bad of the LEVOIT Cool Mist Humidifier to give you a better perspective before you make a final decision.
Advantages
Remedies dry and congested air at home
Allows users to breathe comfortably
Provides enough coverage for small to medium-sized rooms
Easy-to-follow instructions manual
Space-saving, sleek and modern design
Opaque sides cover condensation marks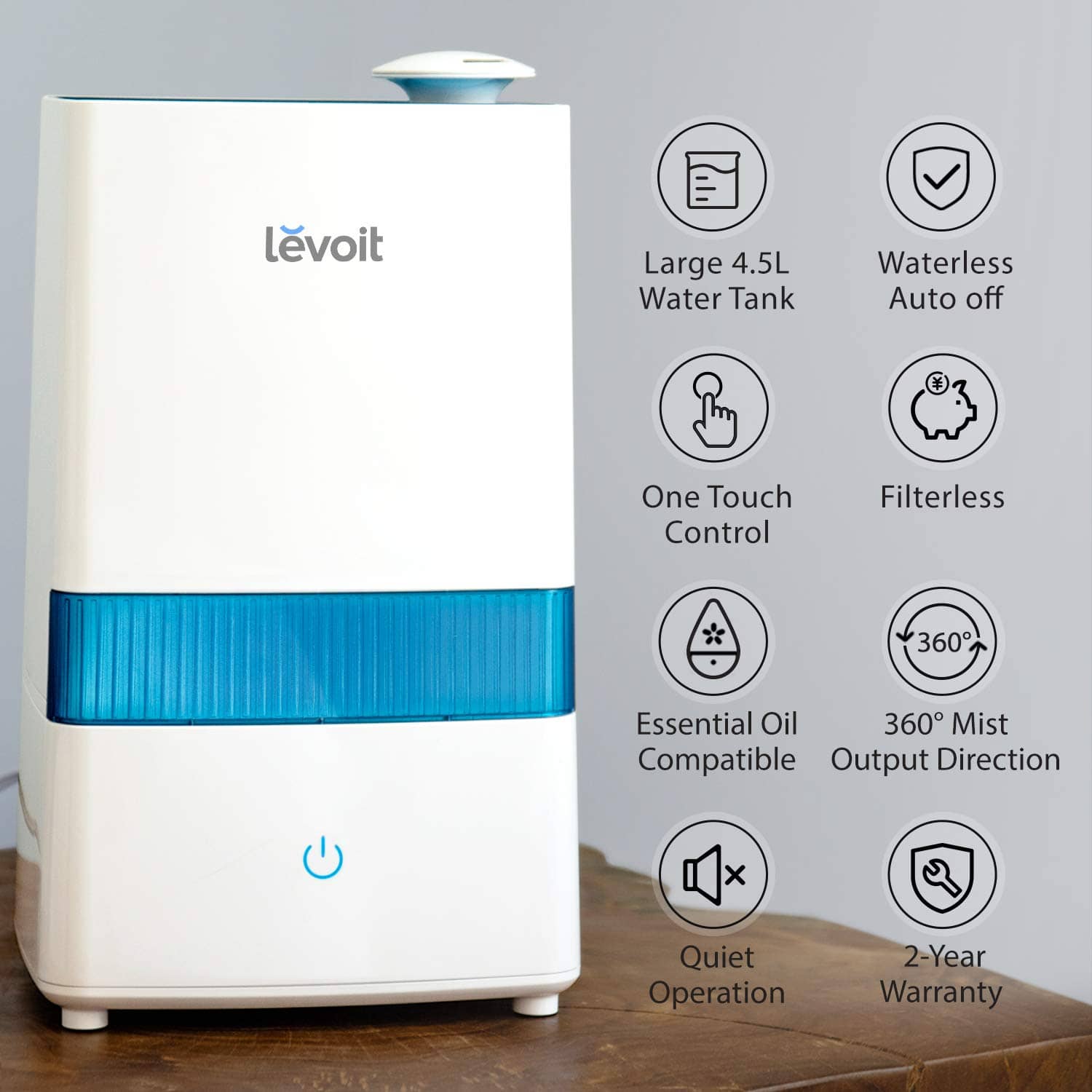 If you have tried looking for humidifiers, you know that you get bombarded with so many options that it's easy to get confused.
The LEVOIT Cool Mist Humidifier, however, stands out among other brands and units because of its combination of much-appreciated features.
First of all, the unit is virtually silent – so silent that you will forget that it is even there. The timer can be set to automatically shut off after 4, 6, or 8 hours – whichever amount of time you need to rest in a room with clean and properly humidified air.
The pressure sensitive on/off button is also a great feature that many users love. You hardly have to make contact with the button before your command registers the click. This makes it very easy to use and to control; a wonderful feature for new users.
Another big plus with the LEVOIT Cool Mist Humidifier is the instructions manual that includes maintenance and cleaning tips.
Many humidifier users find their units malfunctioning after a few uses because it was not taken care of. With the tips included in the manual, you will manage to clean it up in a breeze.
The nightlight option also makes it a wonderful humidifier for kids. Its dual function eliminates the need for you to add another gadget that will consume electricity inside your child's room.
With the LEVOIT Cool Mist Humidifier, you can rest assured that your child is breathing quality air while also being comforted by the glow of the nightlight. This makes it a wonderful humidifier choice for both adults and children.
Disadvantages
One feature that the LEVOIT Cool Mist Humidifier is missing that many users would love to have is the ability to detect the water levels without having to open the tank. Having this added feature will make it easier to monitor if a refill is required, especially before bedtime.
So far, even without this aspect, many users still find that the humidifier functions properly and provides enough mist throughout the night without any problems. If you're unsure of the water inside the tank, just do a refill before bedtime and you'll be good to go.
Humidifiers are machines that handle mist and moisture. This makes them very prone to mold growth. If you do not take care of the unit properly and clean it often, you will see mold starting to grow.
Don't let the mold fester and clean your units regularly. The instructions manual includes some tips on cleaning and maintenance. Just follow the instructions and you can avoid this problem easily.
Finally, if your LEVOIT Cool Mist Humidifier starts to leak, make sure that you do not place it near electronics or electrical sockets. If this happens to you and your unit is within warranty, get a replacement right away.
Verdict
The [easyazon_link identifier="B07C96NK8P" locale="US" tag="bestnightsleepever-20″]LEVOIT Cool Mist Humidifier[/easyazon_link] is one of the most popular choices for humidifiers. It is very reliable, easy to use, and easy to clean.
These are the features many humidifier owners look for. If you want to start breathing clean and healthy air, adding this machine to your home will be a wise decision.
[scrapeazon asin="B07C96NK8P" width="800″ height="800″ border="true" country="us"]