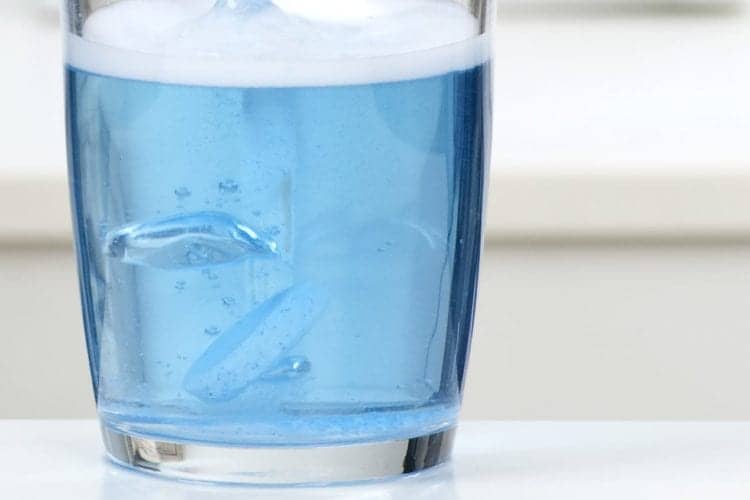 These effervescent night guard cleaner tablets offer a convenient and safe way to clean most dental appliances. Just put your night guard into a glass in the morning and add a tablet, leave it there for about 30 minutes in the morning or even until the evening, then rinse it off. All brands kill around 99% of 7 Common Odor-Causing Bacteria to keep your night guard fresh and stain free.
A few things to look for when choosing the right cleaning product for your night guard are ease of use, cleaning power and non-toxicity. Most of the brands on the market come in convenient single packs for freshness and so you can take them on the go. I have found the some clean better then others but there is a trade off between the chemicals used and how well they clean. Some have recently been forced to change their formula by the FDA and so have sacrificed cleaning power for non-toxicity.
Overall night guard cleaner tablets are a fast, convenient and safe way to keep your mouth guard fresh and hygienic.
Top 5 Choices for Night Guard Cleaner Tablets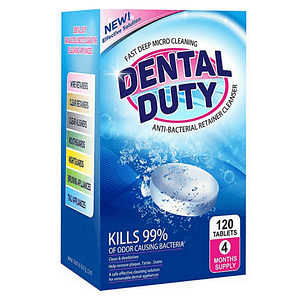 Dental Duty offers a convenient solution for hygiene around your night guard routines. The powerful cleaning agents contained in these denture cleanser tablets create a super-effective blue solution that also fights tartar, helps reduce plaque and protects gums from gingivitis​, as well. It seems that the formula has changed recently. Comes in a 120 count box which is a total supply of 4 months if you use 1 tablet daily.
They seem to have hit the sweet spot, gentle and safe enough to store your night guard all-day but strong enough to get the job done in just a few short minutes before bed just in case you forget in the morning. Simply open a CleanGuard package, drop the two tabs into a cup of water, and then add your night guard. These little tablets provide a tough bacteria-busting solution in a gentle non-abrasive formula, perfect for your nightly appliance.
M3 Dental Cleaner offers a newer cleaning solution that works great and reviewers love! With a fresh look and a 4.6 out of 5 on Amazon, purchasers are switching from leading name brand cleaner tablets and not looking back. Comes in a 90 count box which is a 3 months supply. You only need to use 1 a day to keep your night guard clean and minty fresh with no chemical after taste.
Efferdent cleanser tablets help to keep full plate dentures, partials, retainers, and other dental appliances fresh and clean, removing stains and odor. Comes in a 120 or 240 count boxes which is a total supply of 4 or 7 months if you use 1 tablet daily. Designed to fight plaque and odor, Removes stains and keeps your dental appliance fresh and clean These dissolvable tablets are easy to use and convenient to store.
RetainerBrite seems to have changed the product ingredients along with the box redesign. "Formula now more environmentally friendly per new FDA regulations!" Reviewers are not thrilled with the new look or formula saying that it does not work the same as before and they will be looking for alternatives. Individually Wrapped. Just drop one tablet into warm tap water and soak your Dental appliance for 15 minutes.