Pros
Very inexpensive
The first disposable and ready to use night guard
Comfortable, minimalist design
May be worn on upper or lower teeth
No boiling, cutting or molding required
Cons
Disposable, will wear out relatively quickly
May change your bite because there are 2 bite plates at the back rather than a solid plate across all teeth
Some reviewers say they are hard to fit/keep in place in your mouth
Possibly flimsy and uncomfortable
Definitely a short term solution
Plackers Grind No More is a great product for its specific use, don't expect this to be your mouth guard forever but if you are traveling or in between mouth guards they are perfect.
Coined as the first disposable night guard, they come in a 10 or 14 pack and are designed to be thrown away after 3 days. Content goes here
They are definitely a comfortable, cost effective short term solution that provide protection for your teeth in a convenient and hygienic way.
Although recommended for 3 days of use reviewers say they can get up to a week comfortably using a single guard using proper cleaning techniques and a plastic case. That means this box could last you longer than as 3 months, a bargain if you are not ready to commit to a more expensive molded or custom dental appliance. (Usually ranging from $150-600)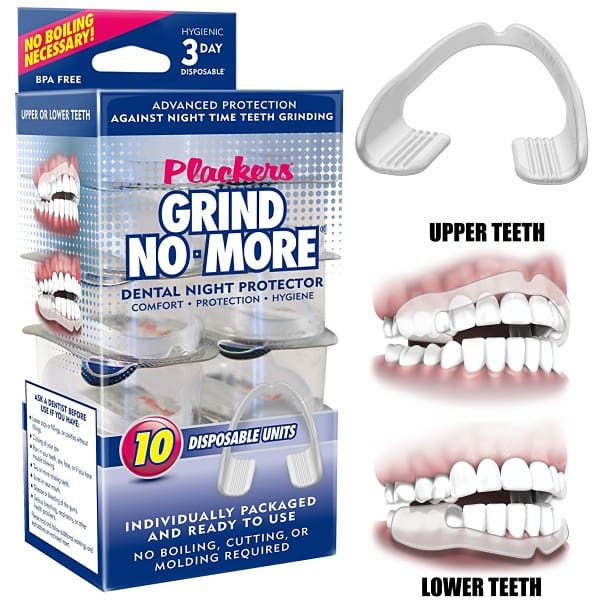 The guard is shaped as a U which sits between your teeth and wraps around the outside of your tooth between your tooth and jaw with a flat portion of the guard that sits between your back teeth.
There are 2 bite plates that fit on either side of your jaw and cause a bit of a gap between your back teeth, and that thin strip that connects the bite plates can either go over your top or bottom gums.
The Strip around the front is not uncomfortable at all, It takes a few days to get used to of course but I am wearing them happily while waiting for my dentist appointment because I have ground through my old dental appliance.

Plackers Grind No More FAQ
How does this compare with a much larger mouth guard?
Some think its a lot more comfortable due to its minimalist design, others comment that it does not rub on their gums allowing them to heal from their more sturdy appliance.
I personally have not found this style of mouth guard to be uncomfortable at all, and If having a giant wad of plastic in your mouth is something that makes it hard to sleep the Plackers Grind No More might be the one to consider.
Are these a choking hazard?
A fear that many people new to night guards have is that they may swallow or choke a mouth guard during the night, while this may be possible with the thinnest and lightest of the disposable night guards I have personally used each night guard reviewed on this site over the last 20 years and I have never come close to swallowing or choking on any of them. If you do not get the mold just right or the size does not fit your mouth you may end up spitting the
guard out during the night but the worst that will happen is that you will find it on your pillow in the morning. The size and shape of the guards do not allow for any choking or swallowing to happen during the night and I have not worried about this possibility in years.
Specifically for the Plackers Grind No More – I have used this brand extensively for travel and between Dental Lab night guards and I have not had an experience with them being a choking hazard. It was something that I was concerned with initially because of its lack of bulk but I have been using them daily for about 3 months now and I have experienced no movement whatsoever.
There have been some complaints of reviewers being able to chew these up like gum or not having a good fit, but its impossible to know before testing on yourself.
Packers does offer a "Free Sample"at plackers.com if you are worried, however its $2.99 for shipping.
And you can get a 14 pack HERE
for $15 on Amazon Prime which will last you 42 days if you throw them away every 3 days and 3.5 months if you wash them thoroughly each morning, keep them in a plastic mouth guard container and throw them away each week like I am doing currently.
Overall a great, disposable, hygienic, short term solution that will protect your teeth for at least a few months for an unbeatable price!