Pros
Convenient way to clean your mouth guard
Comes with a 6 month supply
Cons
RetainerBrite seems to have update their formula which makes this product less effective
Chemically smell and taste
Still need to scrub mouth guard after soaking
Would not recommend this cleaner
Retainer Brite cleaning tablets brighten your dental appliance, killing 99% of 7 Common Odor-Causing Bacteria to keep your mouth guard fresh
Comes with 2 Boxes of Retainer Brite (192 Tablets Total) which is a 6 Months Supply if you use 1 tablet daily.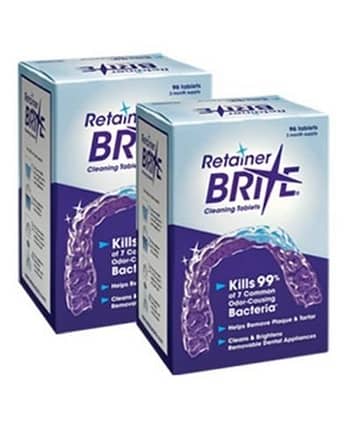 Individually Wrapped. Just drop one tablet into warm tap water and soak your Dental appliance for 15 minutes.
"I got these for my anti-grinding dental appliance because I was tired of spending almost as much time brushing them as I did brushing my teeth. To be honest, I'm not overly impressed. They do not effervesce like I expected and so I still find that I have to use a toothbrush on the retainers to completely remove the film that collects overnight. The do foam a little bit the minute they hit the water, but that's it. I have to use two tablets (actually "pieces of tablets" since most of them are broken into several pieces) to get enough foam in the bowl. I will say they do keep the retainers from smelling stale and that's why they get the 4th star- otherwise it would have been 3.

I don't plan to buy them again"
These effervescent cleaning tablets are safe for cleaning clear Essix retainers and clear Invisalign orthodontic aligners, plastic and wire Hawley retainers and appliances, mouthguards, nightguards, bruxism appliances, Valplast Partials, and TMJ splints.
Retainer Brite cleaning tablets are specially formulated with gentle cleaning agents and the proper PH that will not yellow or harshly affect removable plastic appliances.
Retainer Brite seems to have changed the product ingredients along with the box redesign. "Formula now more environmentally friendly per new FDA regulations!"
They also say "(Please note, if your dental appliance has heavy old plaque buildup, Retainer Brite will not remove heavy plaque buildup. The new formulation (per FDA regulations) changes only one minor ingredient and does not affect the way Retainer Brite cleans, smells, or "tastes" on your dental appliance. Depending on the water in your municipality, the formula might not change from blue to clear after 15 minutes, but it does not affect the way that Retainer Brite cleans your dental appliance."
Reviewers are not thrilled with the new look or formula saying that it does not work the same as before and they will be looking for alternatives. 
"My first time trying with the "new packaging" but that isn't the only thing new. We have used the old version for 2+years without issue. They have definitely changed the formula. The old version cleaned in 10-15 minutes and the water was clear. After 30 minutes of waiting for this to turn, I finally gave up. Rinsed and scrubbed with a toothbrush as usual, and there was still a gritty film on my aligners and a chemical taste.
[scrapeazon asin="B06Y6L14CB" width="800″ height="1000″ border="true" country="us"]