Thin design with added Stability Wings to keep the guard from falling out during the night.
Similar to the Dura Comfort but designed for slightly less severe grinding and clenching.
This model is great for night time clenchers, Grinders will probably chew through the Secure Comfort faster then they would want.
Thin design for more anatomical fit and comfort.
Expected to last 4-6 months of moderate clenching and grinding.
For those who would want a "less bulky" alternative but are still worried about the mouth guard falling out during the night.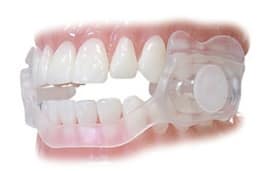 If you have had experiences of loosing or spitting out your mouth guard during the night, are afraid of swallowing it, the added security of the "stability wings" will keep your peace of mind while the slimmed down design will be more comfortable than a bulky custom fitted guard.
Reviewers say that the "stability wings" along with the sitting instructions really help keep the guard in place all night long.
Find the SleepRight Secure Comfort Dental Guard on Amazon!
[scrapeazon asin="B006N0665O" width="800″ height="1000″ border="true" country="us"]