The most durable and bulky of the SleepRight Disposable Dental Guards, offers protection from the most severe night time grinding and clenching.
While offering the most protection for your teeth, this also means that the pads might be considered "too hard and bulky" for some. 
The bite pads have four positions, making it easy to customize the fit for all sizes. They adjust forward for a smaller fit and backward for a larger fit, as well as swivel to match the angle of all bites.
Offers flexible "Stability Wings" to help keep the mouth guard in place for the entirety of the night.
Front band that sits on the lower gums is more anatomically correct, more comfortable for extended wear.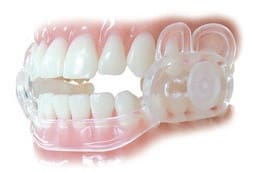 Most severe grinders replace approximately every 7-8 months, can last up to a year each.
There are also complaints of the stability guards and font band scraping up the gums and cheeks if you are a side sleeper.
If you've never used a night guard before, you should expect some mild discomfort for about a week- by which I mean an annoyance, not pain. After that period, you most likely won't even notice it. Also, it has never come out of my mouth on its own.

-Zack


[scrapeazon asin="B000ZN3D4C" width="800″ height="1000″ border="true" country="us"]</div>