Identical to the Secure-Comfort, except without the STABILITY WINGS for a slimmer, more anatomical fit.
Thin and comfortable for most, especially for those with smaller mouths However some reviewers say that this guard has a tendency to slide out of the mouth during the night and they wake up having clenched or ground through the night.
This guard would be ideal for those that have tried bulkier mouth guards and not been able to tolerate them, if you have had trouble with the guards rubbing against the gums or cheeks or prioritize fit and comfort.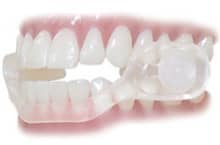 This guard come with the option to choose a "minty" taste, the general consensus is that this is a ridiculous gimmick and lasts for about two nights, don't let this feature affect your decision.
The tiny strip that fits across the lower bottom teeth holds it right in place when positioned according to the directions. I was afraid that it would keep me awake at night, but once I figured out the correct settings and placement, it was like wearing contacts; you don't really notice it if you don't think about it.

-Pam
Another feature to note is that without the "stability guards" this becomes a good option for Good for side sleepers who are worried about the mouth guard scraping up the inside of the mouth or gums.
Includes one dental guard, one carrying case, and fitting instructions.
Might not last as long as you would wish if you are a severe night grinder.
4-6 months of use expected with moderate to severe clenching and light grinding.
Overall this is a great option for protecting your teeth and jaw from nighttime clenching, the thin and comfortable pads might not stand up to too much grinding but if you prioritize fit and comfort you will enjoy wearing the SleepRight Slim-Comfort.
Does this device prevent your teeth from touching and does the pad sit on the back teeth?
Yes, it does prevent the teeth from touching, and the pads are adjustable for your comfort. They're recommended to have the front of the pad behind the incisors.


Check out the SleepRight Slim-Comfort Dental Guard on Amazon!


[scrapeazon asin="B000EJPNJU" width="800″ height="1000″ border="true" country="us"]