Pros
Made in a lab by a skilled dental technician
Warrenty includes any adjustments free of charge for up to 1 full year
BPA, Silicon & Latex free
Cons
May be a bit large and bulky for small mouths
If the fit is off at all it will cause your teeth to hurt
Best to send it back to get it adjusted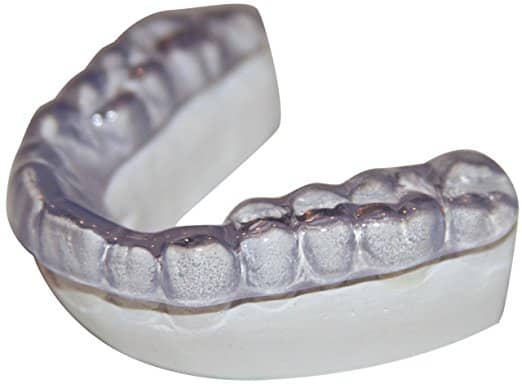 Teeth Armor offers Custom Made Night Guard for upper or lower teeth. It's pretty thin at .120" (3mm) and is made from medium density BPA and Latex free medical grade material, exactly the same material used by dentists.
The Teeth Armor lab has over 10 years experience in fabricating custom dental guards and each and every teeth guard is hand made with attention to detail to ensure a precise fitting teeth guard. They use Medium Density anti abrasive material that is not only strong and durable but provides comfort. This is not a cheap boil and bite bulky mouth guard – What you receive is a professional custom teeth guard that fits exact to your teeth.
They also offer unlimited adjustments to make sure it fits just right (97% of time it fits perfect right away 🙂
This is a Medium Density custom made dental guard that is not Too Hard or Too Soft, Very durable like a hard guard yet comfortable like a soft guard. It protects your teeth from the harmful effects of teeth grinding and clenching and helps alleviate jaw, facial pain and headaches.
The outer layer includes an extra durable stronger laminate material made specifically for heavier teeth grinding and clenching cases. Features an abrasion-resistant characteristic that will withstand teeth grinding better than traditional soft night guards.
The teeth impression process is to be done in the comfort of your own home.
Provided easy to follow instructions means it only takes 5 minutest to take your teeth impression and 3 way shipping is included.
1st Shipment of the initial teeth impression kit
2nd Shipment using the included pre-paid mailer to mail back your teeth impression to the lab
3rd shipment of your completed custom night guard shipped back to you
Comes with One large, one small tray for making mold
Teeth Armor also offers a 1 year warranty. This includes any adjustments free of charge for up to 1 full year. If a new teeth impression is needed then they will cover the charge to start with taking a new teeth impression. If you is still not satisfied they offer a 100% full refund.
Q: How long does this mouth guard last?
A: The average lifespan of the medium density custom teeth grinding guard is 2 to 3 years. This is however very dependent on the degree of teeth grinding and clenching. For very light teeth grinding and clenching the teeth guard can last 5 or more years, if more on the heavy side then the guard many only last a few years.
Q: Is this a dual layer guard, soft inside and hard outside?
A: It is a 3mm thickness medium density guard that is not too hard or too soft. This guard also helps to absorb shock from heavy teeth clenching which can help alleviate jaw/facial pain and headaches. This guard also features an abrasive-resistant characteristic that will withstand teeth grinding and clenching better then traditional soft night guards.
Q: How do you know if I would use an upper or lower guard?
It is mainly a matter of preference. Most people find an upper to be more comfortable and does not impinge on the tongue as much as a lower.
Get the Teeth Armor Professional Dental Lab Night Guard on Amazon Prime!
[scrapeazon asin="B01M141YDH" width="800″ height="800″ border="true" country="us"]